Hughes Circuits Inc. (HCI) was founded in 1999 by Jerry Hughes. Today we are the only EMS in San Diego that houses a complete PCB layout service bureau, complete PCB fabrication facility, full-service PCB assembly facility, and precision metal fabrication facility, all under one management team.  HCI currently employs more than 230 employees at its San Marcos facility of more than 83,500 sq feet.  Each year HCI invests hundreds of thousands of dollars in new capital equipment, training, and software to maintain our leading-edge technologies.
We are a woman-owned small business, AS9100D certified, MIL 55110,3 and MIL PRF 31032 approved, UL recognized.  We layout printed circuit boards (PCBs) to IPC 2222, build to IPC 6012, IPC 6013, and IPC 6018, we assemble to JSTD 001 and IPC 610D.  All PCB layout engineers are IPC CID or CID+, all PCB inspectors are certified to IPC 600, and all PCB assembly personnel are certified to JSTD 001 and IPC 610D.
We want to become your EMS provider of choice, by providing unmatched value in your electronic product development and manufacturing supply chain.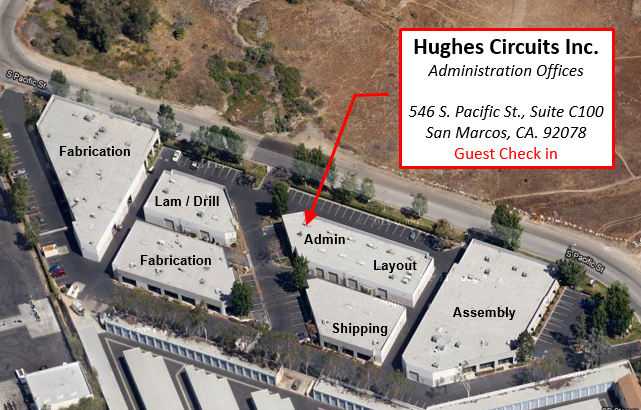 Stability
HCI has experienced rapid revenue growth of more than 35% year over year by keeping the focus on the needs of the highly competitive electronics industry.  In May of 2019, we celebrated our 20th year of business.  We focus on cycle time reduction, lean manufacturing, quality, superior engineering support, and customer service.
Unparalleled Expertise & Manufacturing Clarity
The electronics supply chain is highly fragmented requiring complex management of separate vendors that know little of the upstream and downstream processes.  This often results in miscommunications and time delays as complex product questions must be filtered through and between multiple unrelated vendors.  This is an imperfect process that yields many opportunities for delays and defects.  HCI is an expert in all stages of the product development cycle including PCB design, fabrication, component sourcing, and assembly.  No more delays or finger-pointing between vendors when a problem arises!
Leading Edge Technology
Investments in training, research, and the latest technology equipment allow HCI to manufacture the most technologically demanding products.  There is no printed circuit board manufacturer or assembly facility that can beat our technical capabilities.