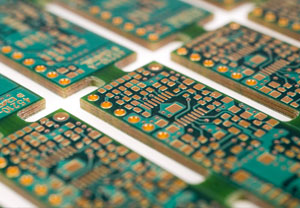 Hughes Circuits Inc. (HCI) has a complete bare board fabrication facility with all manufacturing processes in-house.  When you place an order with HCI, you're dealing directly with the manufacturer, not a middle man.  Our domestic production is focused on advanced technology, high quality, and time-critical delivery while providing exceptional value.  We provide extremely compressed lead times as well as right the first time engineering support.  We don't compete on bottom-line unit price, but we'll exceed any other manufacturer in terms of the total value.  Where price is paramount, we have partnered with quality off-shore vendors, so our customers can focus on their product development, not complex oversea supplier management.
HCI offers a wide variety of technologies, materials, lead times, and processes.  Board types include standard rigid, high density rigid, chip carriers, high speed/RF, flexible & rigid-flex, thermal management, prototype, and highly engineered.  We also provide extensive engineering support for materials, impedance stack-ups, surface finishes, leading-edge technologies, manufacturing guidelines, and general applications support.
We tool over 250 unique part numbers per month and more than 30% of our orders are shipped in less than 5 days.  We also build mission-critical space and military electronics from 1 to 10,000, with each part ready for long-term reliability in harsh environments.  We service an incredibly diverse customer base of over 1,000 customers, none of which comprise more than 10% of our revenue.

OUTSIDE THE BOX
We have three simultaneous operating environments, one built for high reliability, one built for speed, and one build for efficiency.  we can build your mission-critical product using our conservative high-reliability processing guidelines.  We can build multilayer's reliably in 24 hours using our speed optimized production flow, or we can build your low volume commercial application inexpensively using our efficiency optimized production flow.  If the price is paramount, we have partner offshore production facilities to ensure maximum price competitiveness.
Our "FASTrack" system organizes the manufacturing process in to flow optimized "cells" which allow the product to move expeditiously limiting the amount of que waiting time before the next operation.  This method is preferred for product lead times of less than 5 days on the standard product and less than 15 days on highly engineered products.
Our standard manufacturing process is optimized to gain the highest level of efficiency to reduce manufacturing costs.  This method is preferred for product lead times in excess of 5 days on standard technology and in excess of 20 days on highly engineered products.
High Reliability, speed, or cost?  Whichever you need, we've engineered the optimal process to ensure you're on time and on budget.
HCI is a woman-owned small business, AS9100D certified, MIL 55110 and MIL PRF 31032 certified, ITAR registered, and UL recognized.
Experienced leadership and leading-edge manufacturing processes result in high-quality circuit boards.  HCI has long focused on technologically demanding circuit boards, which has resulted in process refinement, equipment investment, and best practices training resulting in efficient and effective manufacturing for both simple and complex boards.
Quality is built-in with HCI.  All manufacturing processes are documented in our ISO9001 certified quality system.  All quality inspectors are IPC 600 certified by our in-house certified trainer.  HCI is qualified to build IPC 6012 class 3 as well as MIL-PRF 55110 and/or 31032 printed circuit boards.  Every inner layer is inspected using the latest AOI technology capable of effectively inspecting .002" lines and spaces as referenced by the electronic CAD data.  All boards are netlist checked before release to ensure the Gerber files as received match our production files and again at electrical test.
TYPES OF BOARDS

SERVICE AND SUPPORT

Standard Rigid 1-32 layers, (picture)
HDI / Blind and Buried Vias (picture)
Flex and Rigid-Flex (picture)
Microwave / RF (picture)
Advanced Technology (multiple level cavities, castellated holes, etc.)

HCI is part of a select few printed circuit board manufacturers in the united states with the capabilities to build almost any printed circuit imagined.

For a complete list of our capabilities, please consult our FAB Capabilities page.

Material and Surface Finish selection assistance
Impedance and Stack-up assistance
Correct critical errors prior to fabrication
Engineering feedback for DFM