Our Advanced Microelectronics group now offers advanced microelectronics assembly and packaging services, process development, and low to medium-volume production for high-reliability applications. Utilizing our new state-of-the-art equipment and our 45+ years of process expertise, we enable customers to transition from prototype to low-volume production seamlessly.
Services to meet your advanced assembly and packaging needs:
Decades of process expertise
High-accuracy die attach and wire bonding
Process development, optimization, and prototyping for increased reliability
Rapid package prototyping for proof of concept

 

Turn-key package assembly, test, and measurement
Advanced packaging services
Supply chain management
Secure ISO 7 clean room
Computerized paperless lab data collection and analysis
High-reliability applications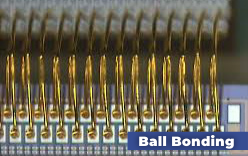 Access to advanced packaging as a service, with no long-term commitments. This allows companies to conduct low-risk experiments, process development, and accelerate the time to market without having to purchase expensive capital equipment.
Intellectual property protection
Rapid prototype-to-volume assembly without using valuable engineering resources too quickly
Ability to quickly react to needed changes

Improved communication
Access to your product in all stages of the assembly
High-quality processes and applications
Ability to perform consistent complex applications and processes
Click here to submit a quote request
EQUIPMENT
SPECIFICATION
CAPABILITY
TPT HB-16 Wire Bonder

0.7 mil to 3.0 mil (17-75um) round wire (wedge or ball)
2x0.5 to 10x1.0 mil ribbon wire
Deep Access

Gold and Aluminum Wedge Bonding as well as Gold Ball Bonding and Bumping
Tresky T-5300 Die Bonder
1um placement accuracy
(application dependent)
20g to 4kg bond force
3D packaging of MEMS, VCSEL, Photonics, etc.
Epoxy or eutectic die attach
Flip-chip attach
Epoxy dispense or pin transfer
Keyence VHX 7000N Digital Microscope
20x to 2,000x zoom optics +/- 60 degree viewing angle
Coaxial, Oblique, and back-lit illumination
Depth composition
Image stitching

Sub-micron resolution images
Highly detailed inspection and measurements
Near SEM image capable
3d image measurement
ISO image measurement
ISO-16232 Contamination Analysis

XYZTEC Condor Sigma Pull/Shear Tester
Tests from 1 gram to 200 kg force
24-bit resolution
6 Sensors in Rotating Turret
Fine Wire Pull Test (Destructive and Non-Destructive).
Ribbon Pull Test (Destructive and Non-Destructive).
Die Shear Test
Automatic Testing Capable
Click here to submit a quote request
search terms: